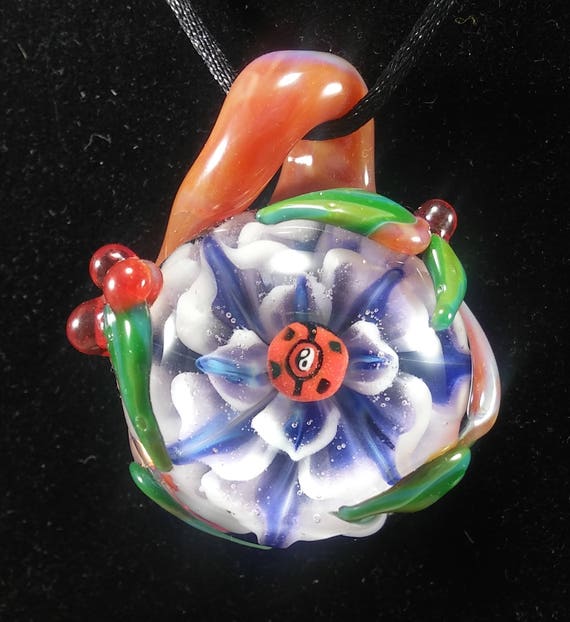 Ladybug Garden Pendant, Ladybug with a yin yang for its center spot. Blue and White flower with green leaves, red berries, brown branches.
This beautiful, unique and detailed pendant is made of torched worked borosilicate glass. In the center of this beautiful flower is a murrini ladybug. The center spot on the ladybugs back is a yin yang. The ladybug represents good luck and yin yang represents balance and harmony. These days who couldn't use a little good luck and balance in their lives. The piece is wrapped in detailed green leaves, brown vines, and a few red berries.
The concept behind this series is based on the scale or size of everything around us. The idea is that the outside of the pendant is covered in tree branches. Trees tower above us, but produce tiny little flowers. Those flowers can be an environment for smaller living creatures to dwell within. Finally as we continue to go down in size we get to the atoms which are the fundamental building blocks of everything. Atoms are made of both positive and negative charged particles and thus are represented by the tiny yin and yang at the center of the ladybug.

The pendant comes with a black satin cord necklace and a matching black velvet bag.