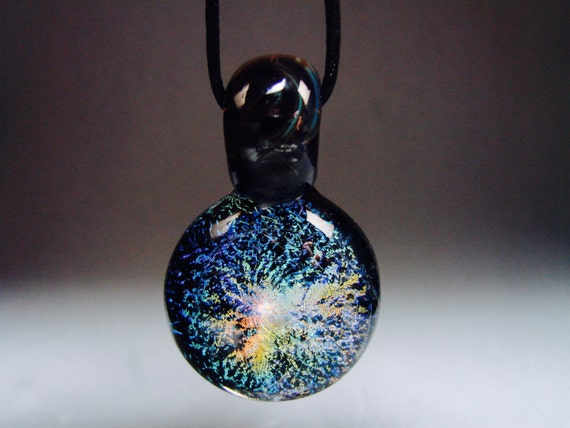 Galaxy nebula sparkle small round charm necklace dichroic glass pendant, 18" black satin cord, metal claps, black velvet pouch bag, 3/4"
4 available
Designed to look like a nebula swirling in a galaxy far far away. This Rainbow dichroic glass pendant is absolutely stunning in sunlight or any strong light. It shimmers, sparkles ,and shines as the colors dance through all the colors of the spectrum. This delightful charm mesmerizes any one who loves eye candy.

It is only 3/4 of an inch tall and 1/2 an inch wide. The small size is perfect for kids, teens and adults. smaller. If you are interested in something larger please look through my other offerings, I do make them on a larger scale.

WHAT COMES WITH:
Also included are an 18" black satin cord necklace with lobster claw clasp, and a black velvet pouch to keep the pendant in when your not wearing it.