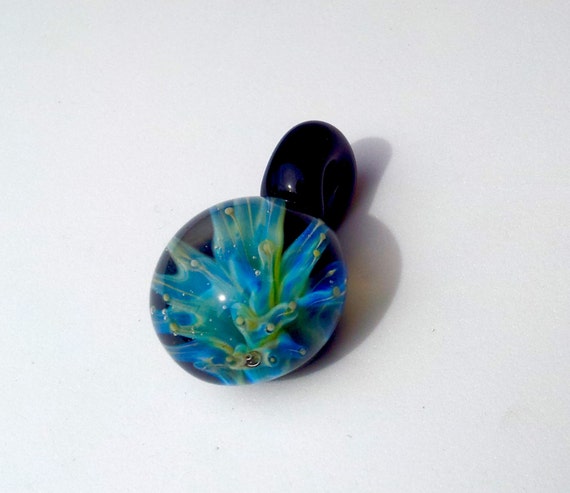 Sea Anemone Pendant flower amulet necklace charm blown glass jewelry blue green black scuba fish tank gift idea
7 available
This unique and beautiful glass pendant features a sea anemone that will dynamically shift in color depending on the amount of light in a given environment. When viewed in subdued lighting the anemone will appear a blueish silver, but when viewed in direct light it becomes iridescent taking on yellows and greens as well as the blueish silver. This is do to the high level of silver in the glass that is used to create the anemone inside. While the glass is worked in a flame that has a temperature above 2000 deg. the silver inside the glass will start to turn into a gas. Because the colored glass is being surrounded by clear glass the silver fumes have no where to go and thus build up in the transitional layer between the clear and the colored glass. When light passes through it will reflect and refract off the silver molecules to create an iridescent glow.

A black velvet bag and a 18" black satin cord necklace with a lobster claw clasp are also included with the pendent.

This pendant is part of the larger series of sea life created by the Award winning glass artist John Ryszka II.