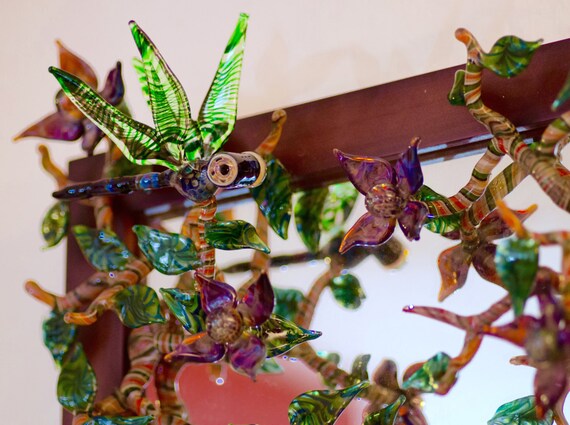 Mirror with hand blown glass red hummingbird, dragonfly, tree, leaves, purple flowers & green leaves, 10 X 30
This Beautiful and unique one-of-a-kind nature themed mirror is 10" wide by 30" tall. Handcrafted glass work flowers, tree branches and leaves, a hummingbird, and a dragonfly adorn the surface of this mirror. Allowing the viewer to be an active participant when centered in the viewing area of the nature scene.

All of the design elements are made of borosilicate glass. The same glass that scientists use for test tubes and beakers due to its durability and strength. All of the glass has been a kneeled in a kill to remove all internal stresses and two provide the glass with its maximum strength and durability. The colors are rare earth elements and precious metals infused into the glass to ensure it maintains its brilliance and color for hundreds to thousands of years. This is a handcrafted one-of-a-kind peace by the artist John Ryszka II and was designed to be an heirloom work of art. If treated properly this piece can last thousands of years.