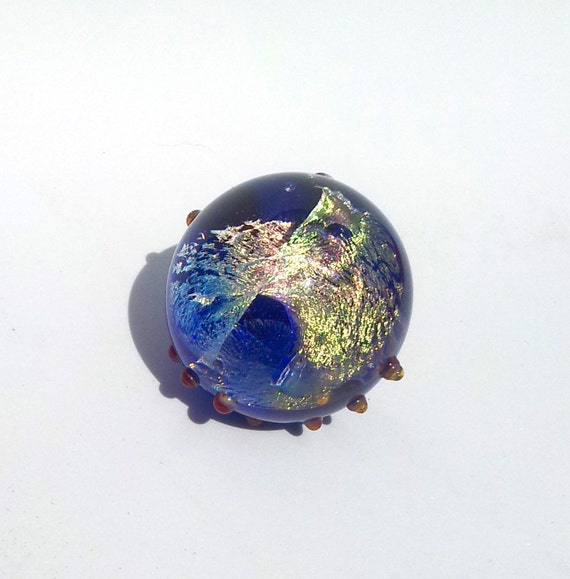 2" inch Gold & Red color shifting dichroic marble, inner peace therapy puzzle with 2 positive messages built into it
2 inch Gold and Red dichroic marble with raised bumps and Dot work on the outside. There's a hidden peace symbol somewhere within. The concept is that if you can avoid getting too caught up in all the glitz and the Glamour and are willing to change your perspective then eventually you can find inner peace. The only thing is that you can't get too caught up in all the shiny distractions or you may never find it.
This is a level 4 difficulty meaning very hard to find the hidden peace symbol inside.

The second metaphor is all about personal choice and our ability to change the way we look at things. Start by holding in the palm of your hand. At this point you are looking down into it ,and anytime we are looking down in life things can appear as thoygh they are going on and on, and sometimes we may not be able to see the end of what ever it is that we are dealing with. Just like in life though, we always have a choice at how we look at things, and if we choose to put forth the effort to change your perspective (at this point you raise the piece slightly above you) You will see that when we keep our chin up that there is a light at the end of the tunnel.

Also included:
A concept card describing both Concepts in detail and showing an example of the hidden peace symbol on the inside. That way you can show your friends what it is that they are looking for.

A black velvet keepsake bag. That way the piece always has a safe place to call home when you want to take it traveling with you in your day-to-day life.