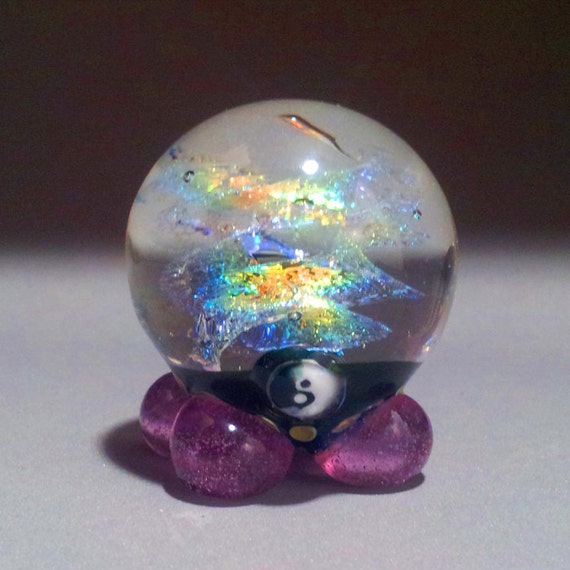 Inner Peace Meditation Puzzle with Hidden Peace Symbol inside and 2 Positive Messages. Great for Therapy tool, Kids to Adults
7 available
This fun little puzzle is a perfect tool for slowing down and contemplation. Its two messages encourage us to remember how our perspective creates our reality and how we always have choices in how we look at things.

Inner Peace Concept:
If you can avoid getting caught up in all the glitz and glamour, inner peace can be found. However, if you get too fixated on staring at all the shiny stuff in life, you may never find it. The shiny dichroic glass swirled inside represents all the glitz, glamour, and distractions in life. A black and white peace sign is hidden within the marble and represents the peace that each of us can find within ourselves if we are willing to put forth the effort. I have made it difficult to find the peace sign. As in life, anything that we have to work for, we tend to value more. But take comfort, once you have found inner peace, it is easier to find that peace again. To find inner peace, you must truly explore all that lies within.

Vortex Concept:
These orbs give the viewer a sense of false depth as if gazing in to a spiraling abyss. Yet just as in life, if you can keep your chin up and therefore hold the orb up in front of you, there is always a light at the end to the tunnel.

I am able to make these in different difficulty levels from 1 - 4. 1 being easy and 4 is very difficult.

This piece is approximately 1 1/2" tall and 1 1/4" wide.

Comes with:

* A black velvet keepsake pouch. This keeps it safe when its in your pocket or purse.
* A Concept Card that has both messages on one side. The other side shows an example of the one of
the hidden peace symbols. That way you can show your friends what to look for.